After much press and hype the very sharp looking 2017 FIAT 124 Spider has finally arrived. Northtown FIAT was the first in WNY to get one delivered. If you're not very familiar with the new 124 Spider, it's important to know that it's almost the exact same car as the Mazda MX-5/Miata which begs the question, which car would you rather have?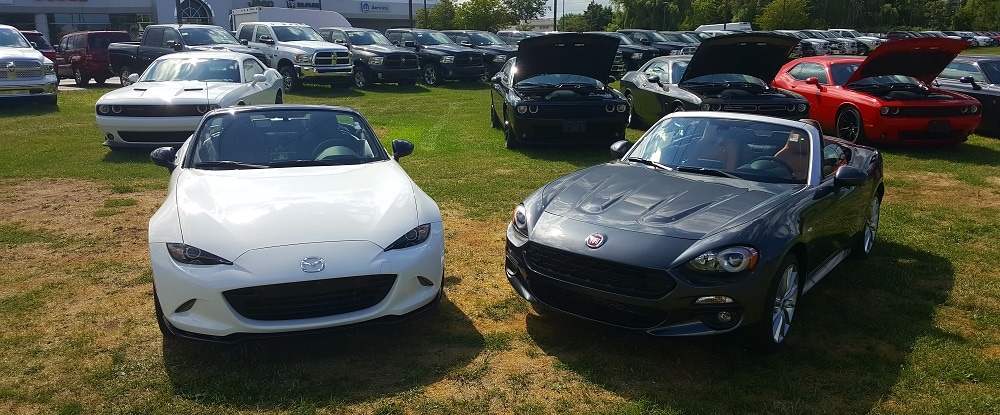 First things first, it's important to point out the similarities and the differences between the two before making a judgment solely on looks alone. The 124 Spider and this one happens to be the LUSSO trim Starts at $27,495 and comes equipped with Leather, FIAT Connect 7.0 Multimedia Screen, BOSE sound, as well as a few other refinements. It comes with either a 6 speed manual gearbox with a short throw or the 6 speed Aisin Automatic transmission. The Engine is a 160hp 1.4L MultiAir Turbo which delivers 184 lb-ft of torque to its rear wheels. The powertrain is the most noticeable difference between the two.

In comparison, a similar Mazda Miata would be the MX-5 Club. This starts at $29,330, and comes with the SKYACTIV®10-G 2.0L DOHC 16-valve 4-cylinder with VVT which is without turbo and delivers 155hp but only 148 lb-ft of torque. The Mazda is also available with a 6 speed short throw manual and a 6 speed automatic transmission. The one pictured here comes equipped with BBS rims and Brembo (Stop-on-a-dime) Brakes. The exterior styling is also dramatically different from the Italian styled Spider but the interiors are almost identical.
In a nutshell, the Mazda has the heritage, and a motor that thrives on RPMs to make power but the FIAT has the low end torque from its turbo and more dramatic styling. So which would you rather have, and why?