The Mazda CX-9 underwent a major facelift and complete redesign for 2016. It's the first time that the SUV has moved away from the previous Ford platform and V6 engine and chose to create an all new Mazda platform, and most notably, a turbo 4 cyl. engine. As owner of the previous generation V6 model, I was very curious to see how the smaller engine and dramatic cosmetic overhaul would compare.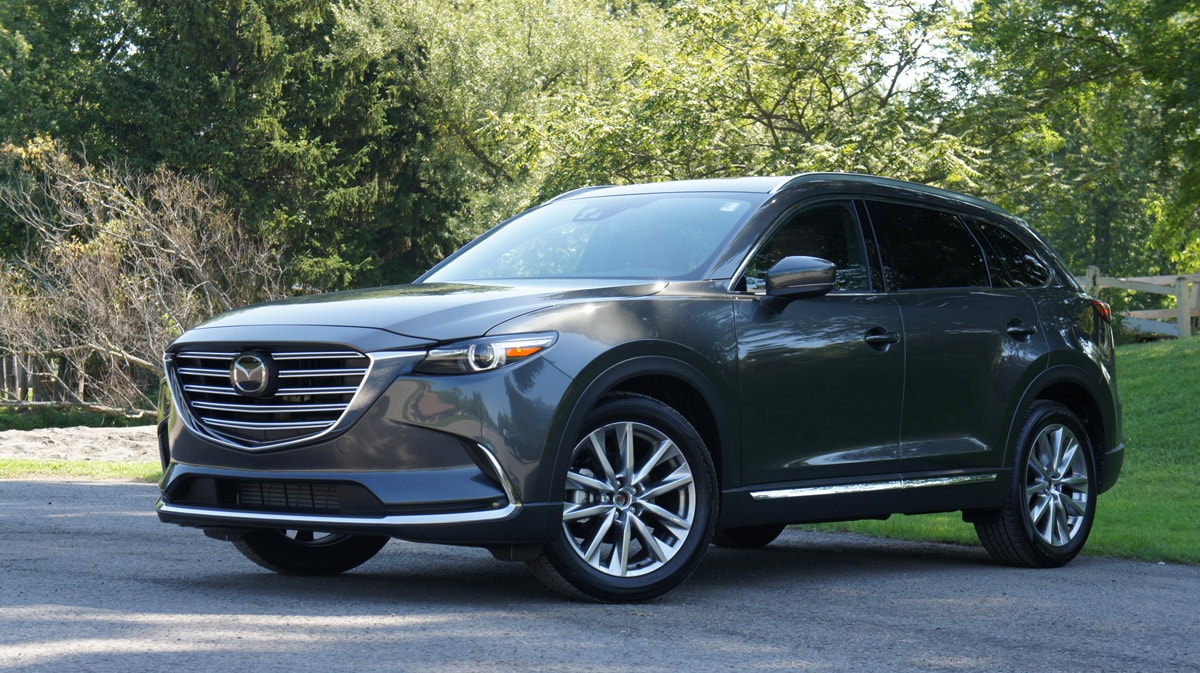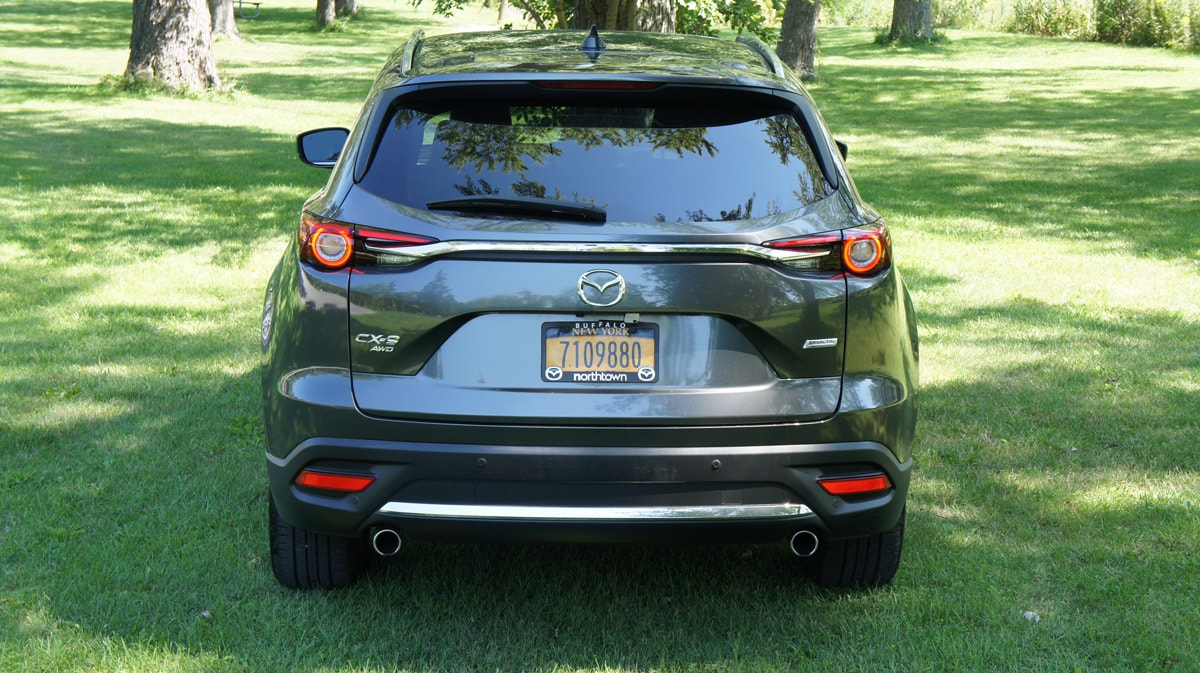 If you've seen any of the commercials of late, you know that Mazda is really trying to keep the DNA of a fun driving vehicle and take their craftsmanship to the next level. Things look impressive in the commercials with burgundy Nappa leather covered seats , Sculpted Aluminum Trim, and a guy meticulously sanding the rosewood trim like it's a Stradivarius Violin. The commercial looks impressive but let's see how things look close up in the real world, and not in a Hollywood studio.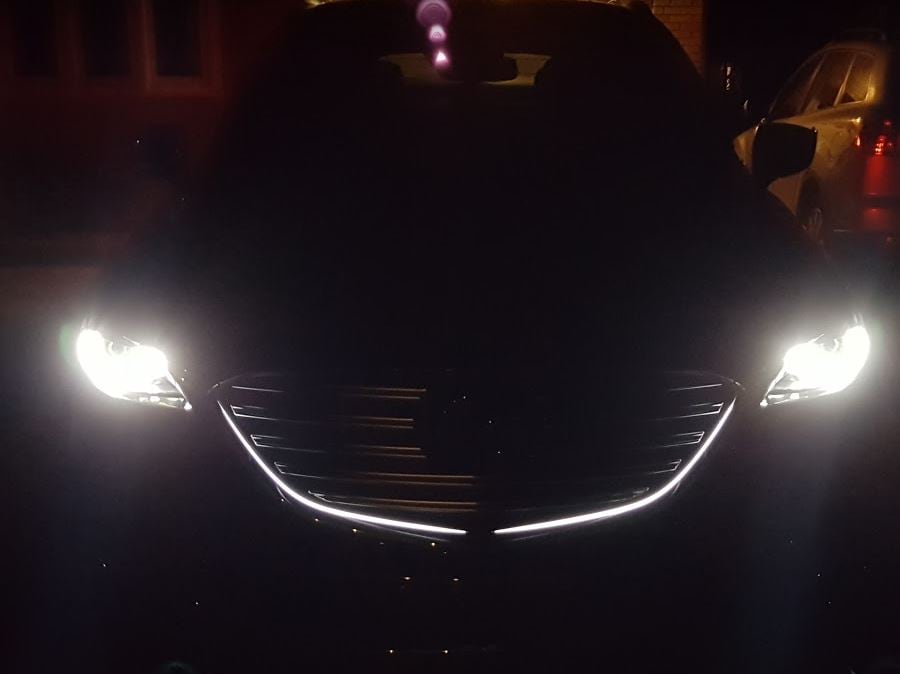 The first thing I notice when I see the vehicle for the first time is its dramatic new grille. For me, I really like it but I can see how from certain angles it may look a little eccentric to some. The LED daytime running lights look sharp, and at night there is an LED light in the grille that makes the SUV look a little like it's smiling. The CX-9 is perched up on top of some pretty low-profile 20 x 8.5 aluminum alloy wheels. Since this SUV is going for sporty, fun, luxury, and will most likely never see off-roading, so they suit it very nicely.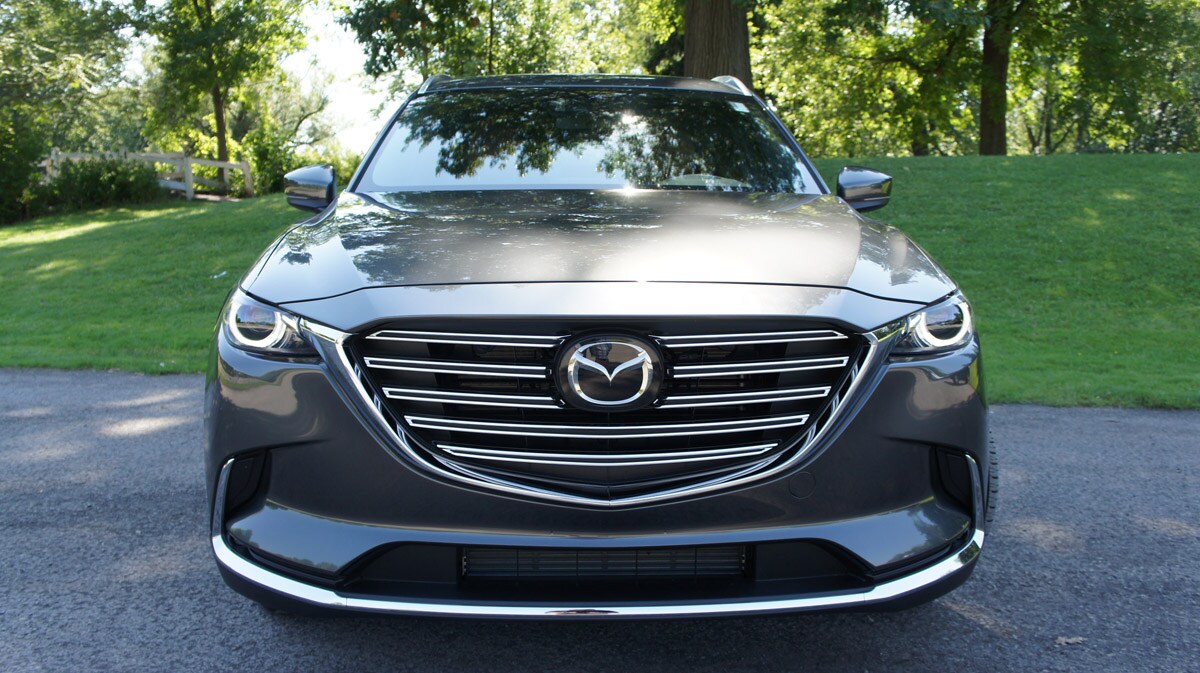 As I open the door to hop inside, the lovely reddish-brown burgundy interior with rosewood trim feels warm and inviting. The driving position is fantastic and the interior wraps around me securely. It's loaded with all sorts of great technology like heads-up display (which I love). The interior actually lives up to the commercials. The use of real aluminum for trim, fantastic feeling materials, and a non-glossy rosewood trim where you can see and feel the wood grain, all contribute to this world class interior.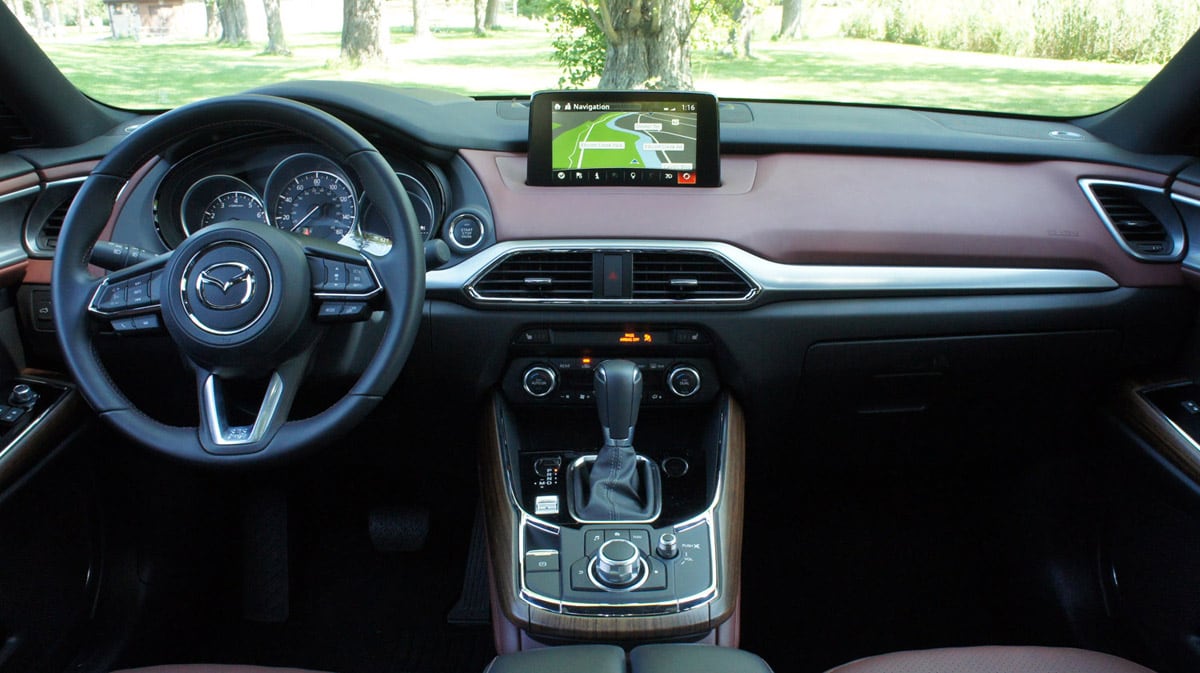 Fantastic Cockpit Feel
The interior layout is also very comfortable and inviting however if you're larger in stature it might be a little tight. All the Mazda interiors recently have been fantastic. This CX-9 might be my favorite and reminds me of the Miata's interior if it got stung by a bee and swelled. The media center control button is down by the shifter and replaces a touchscreen functionality so it might take a day or two to get completely used to it, but once you are I think you'll really enjoy it as I did.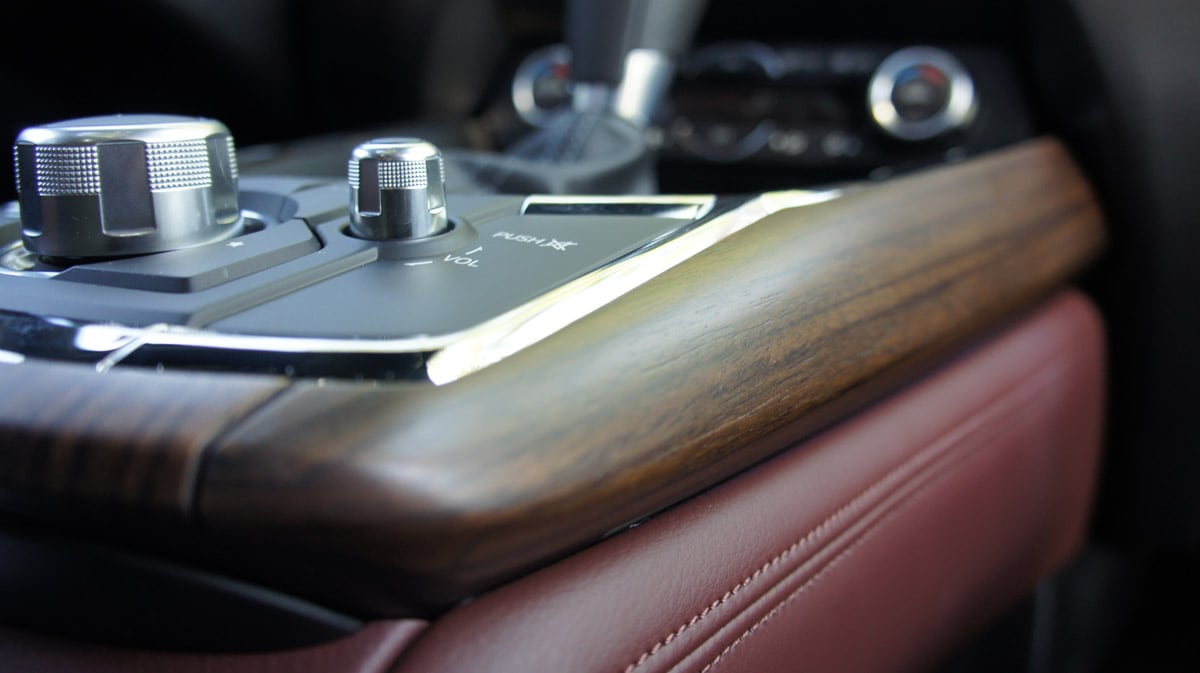 Real Rosewood and Aluminum Trim
Mazda has gone all out with the technology in this vehicle including features such as: Radar Cruise Control, Lane Departure Warning, Lane Keep Assist, Smart City Brake Support, Advanced Blind Spot Monitoring with Rear Cross Traffic Alert, Adaptive Front Lighting System (this means they turn when you turn the steering wheel) and some of the best headlights I've ever been behind. The Bluetooth pairing is super simple and takes under 10 seconds, while the navigation is easy to use and even displays your turn directions in the heads up display. Toss in the moon-roof, and 12 speaker Bose Surround Sound audio system, and now you're really driving in style.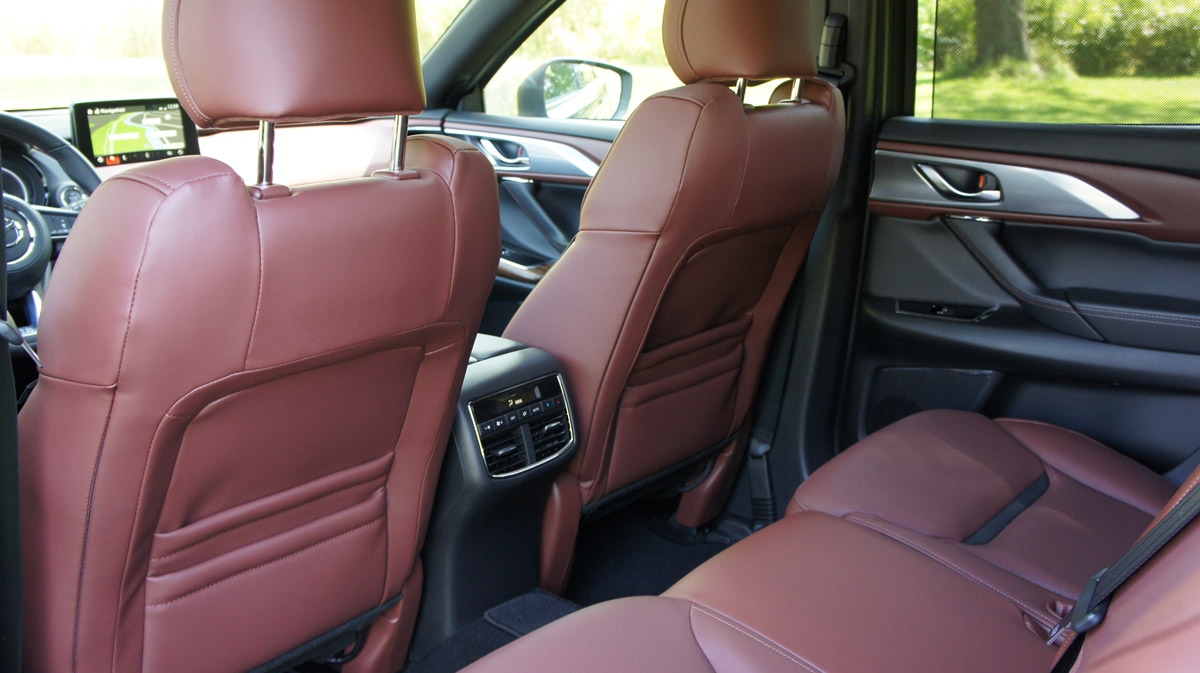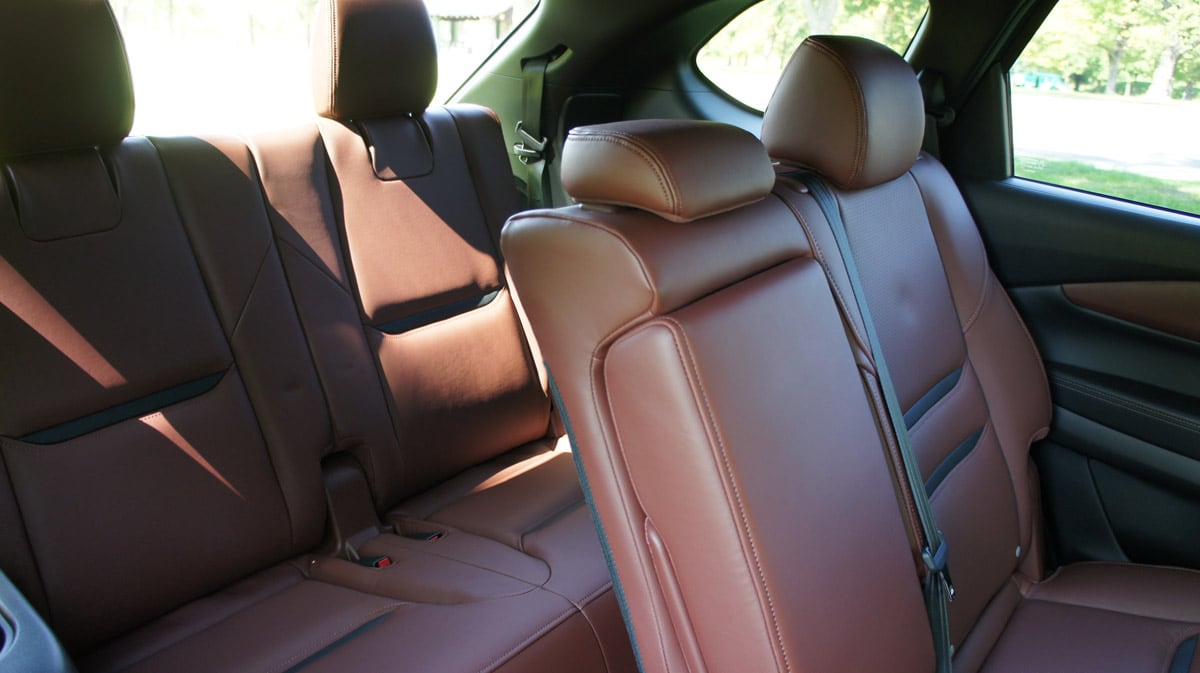 2nd & 3rd Row Seating
Being comfortable and in style is part of the driving experience but for some folks the performance and feel of the vehicle is just as important if not more. I would classify myself in that category. Since my wife and I own a 2008 CX-9 which we absolutely love and it has plenty of power, I was curious to see how the 2.5l Turbocharged 4cyl would compare.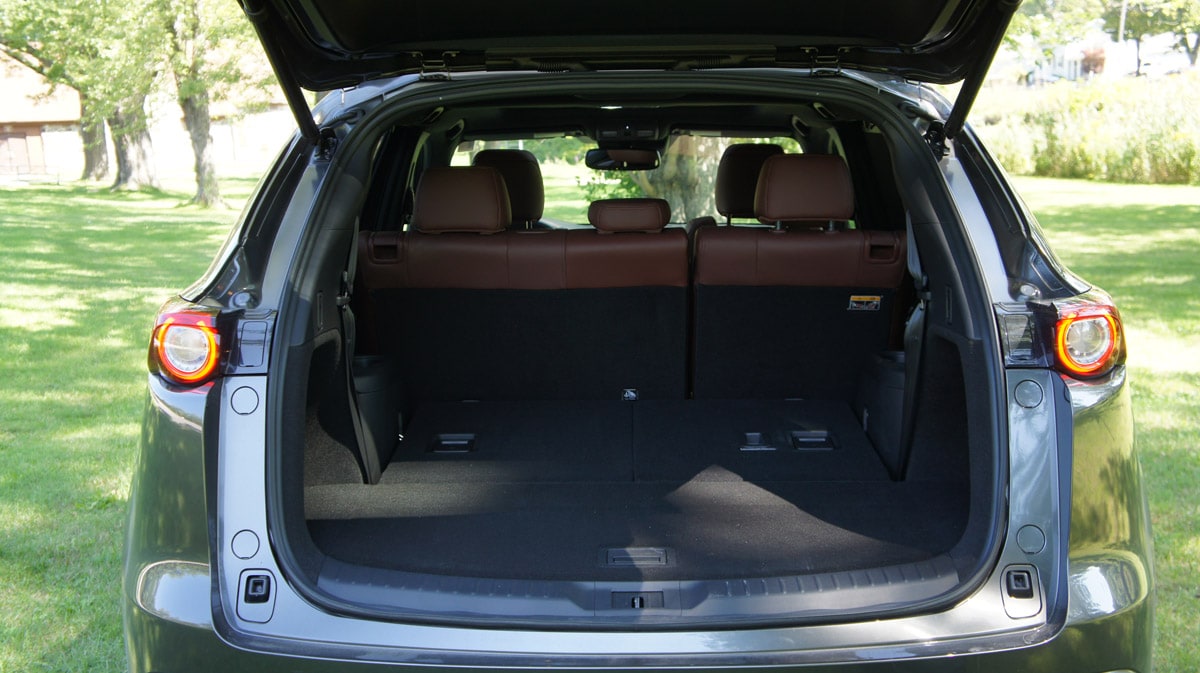 3rd Row Down (38.2 cu. ft.)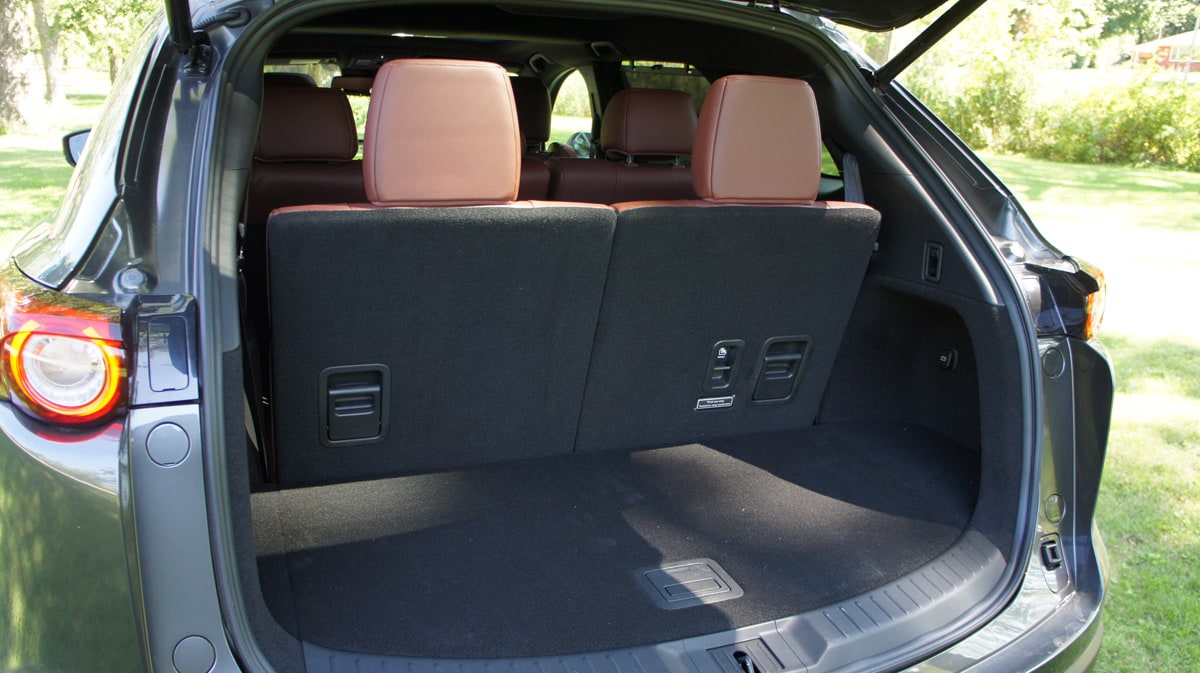 3rd Row Up (14.4 cu. ft.)
Mazda has put a lot of research and feedback into this engine. They found that most of the previous owners hardly, if ever, were putting the 276hp 3.5l V6 engine to full use. Most of the people driving the CX-9 were navigating the concrete jungle and were stuck sprinting from red-light to red-light. This is why they developed the new engine to hit its top torque of 310 ft. lbs. at low RPMs and almost immediately.
I can confidently say that Mazda has absolutely achieved this goal. The new engine is a blast to drive, with the hiss, and pshh of the turbo and plenty of low end torque to get you moving. There might be slightly less power when trying to merge or pass at faster speeds but you'll be very hard-pressed to notice. It sounds funny to say, but this feel like the quickest car in the entire Mazda lineup, even against the Miata!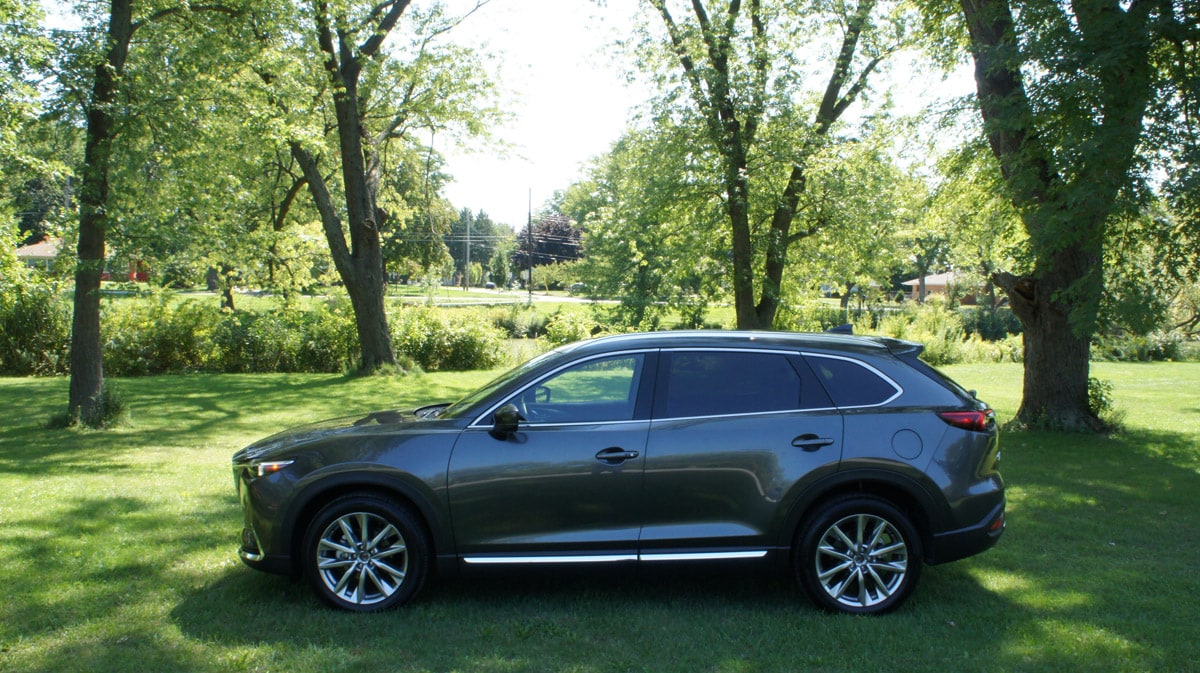 Handling is very competent for a 7 passenger vehicle which is achieved with a pretty sporty suspension, decent turn in and AWD system. I will say that in some sharper turns the electric steering can feel a little bit numb or like a video game steering wheel, but that's coming from someone who is admittedly a car snob.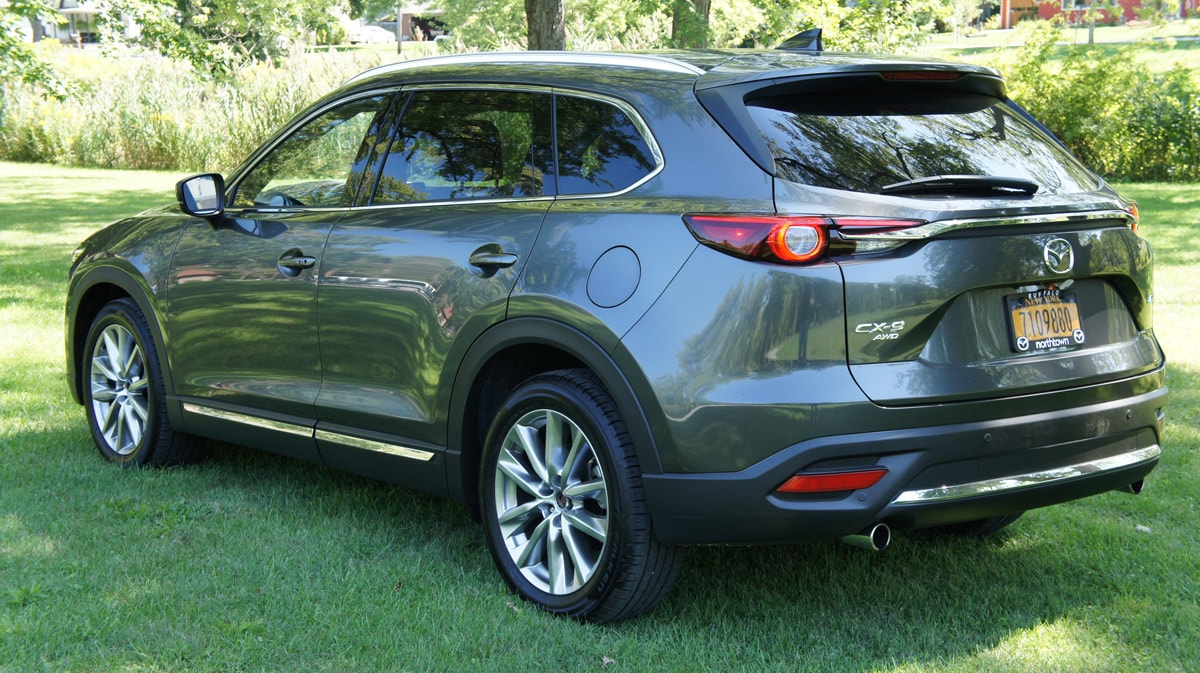 This is the Mazda CX-9 Signature Series (top trim level) with an MSRP of $45,200, and in my opinion is worth the price tag. I've driven more expensive luxury brand SUV's and while they might feel a bit more "solid" or "heavy", I wouldn't say it's worth an extra $10K-$20K or even more, to get a comparable luxury brand vs the CX-9. If you're working more on a budget, you can get the base CX-9 at a very reasonable $31,520 and you'll still get the fantastic engine, AWD, and great handling, which makes this a fun to drive and economical SUV.
Congratulations Mazda, mission accomplished!